Sarasa Comets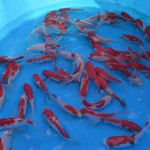 The Sarasa Comet is a graceful alternative to standard pond fish. It has a brilliant red body contrasted with soft white patches and a single-tail. Though it may resemble ornamental carp, the Sarasa Comet lacks the barbels in the mouth area, the markings at the base of the scales, and the size. The Sarasa Comet adds unique beauty to any large backyard water garden oasis.
The Sarasa Comet is originally from China and over the years it has been distributed worldwide. The ideal setup for the hardy Sarasa Comet is a pond of at least 180 gallons with cold-hardy plants. The Sarasa Comet will tend to grow in proportion to its surroundings. It likes to eat the roots of plants and will dig to get to them, so provide large rocks around the base of the plants to protect the plants. Adequate filtration should be provided in order to maintain proper water conditions.
All fish in this section are suited for delivery throughout the year.