Shubunkins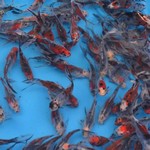 COVID-19 Status - Carpco deliveries will now recommence in the New Year with deliveries on a Wednesday, Thursday and Friday. The next available delivery will be Wednesday 6th January. Merry Christmas to all!
The shubunkin, are similar to the common goldfish and comet goldfish in appearance. They were first bred in Japan, from mutations in telescope eye goldfish (Demekins) c. 1900.
They have streamlined bodies with well-developed and even fins. However, the shubunkins are calico goldfish; they possess nacreous scales (a mix of metallic and transparent scales that are pearly in appearance). The overlapping patches of red, white, blue, grey and black (along with dark speckles) normally extend to the finnage of shubunkins.
All fish in this section are suited for delivery throughout the year.