Pond Plants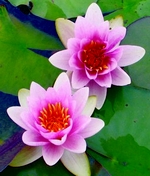 COVID-19 Status - We are pleased to say that the couriers are now back to a normal level and so are we!
To compliment our vast range of fish, we are now stocking a large range of top quality weather hardy pond plants. All of our plants are sourced from quality growers around the world in order to offer them at a quality and price that will not be beaten anywhere!
We want you to enjoy your pond with the minimum amount of work. That is why all of our plants are sent ready to be unpacked and put straight into the water. Watch out for cheaper plants that come bare root or in small pots that are not ready for the pond!