Gold & Blue Orfe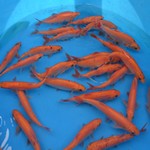 COVID-19 Status - Carpco deliveries will now recommence in the New Year with deliveries on a Wednesday, Thursday and Friday. The next available delivery will be Wednesday 6th January. Merry Christmas to all!
Orfe are a derivative of the European River fish called the Ide. The Blue and Golden colouration are naturally occurring colour variants that have been bred over a number of years to the refined colours that you see here.
They are a shoal fish that should not be kept on their own. They are very hardy providing the pond has good oxygen levels and remain very active throughout the Winter.
All fish in this section are suited for delivery throughout the year.