Large Fish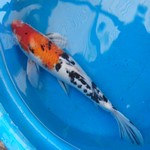 COVID-19 Status - Carpco deliveries will now recommence in the New Year with deliveries on a Wednesday, Thursday and Friday. The next available delivery will be Wednesday 6th January. Merry Christmas to all!
This year we will have quite a few large fish available that are not our usual sizes. Some will be ex-broodstock and some will have managed to slip through the net, literally, and grown on for longer. Whatever the reason, they will be sold at great prices in this section of the website.
These larger fish will all be one offs so grab them at a bargain price before they are gone!