Shipping and Guarantee.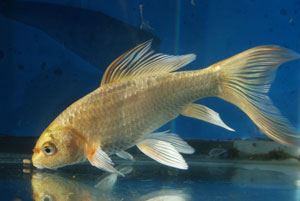 One of the main concerns for many customers considering buying fish online is the worry of how fish will survive during an overnight delivery. At Bourne Valley Fish Farm, we pride ourselves on the way our fish are transported. We spend an inordinate amount of money ensuring that the bags we use are of the highest quality. We also have our boxes specially made to fit the bags perfectly, thus ensuring no internal movement and chance of puncture.
Our fish are then collected from us by APC Couriers (The only fully licensed overnight courier in the Country) who are experts in handling boxed fish. All fish are double bagged with water and neat oxygen. We never overload a bag and, if in doubt, will split the order into multiple boxes to ensure as stress-free a journey as possible for all the fish. We do this job because we love fish and enjoy producing fish of the highest quality available. We do not want to harm the fish in any way and so will never send fish that we feel will suffer during the journey.
Let's compare our fish to those normally available in an Aquatic Centre or Pet Shop.
86% of the Fish that you find in a retail shop have been imported. This means that they are often subjected to diseases that are not present on UK fish farms and are farmed in intensive situations that we would not consider at Bourne Valley. They are then boxed up for an overnight air journey to the UK. The density of the fish in the boxes is often 5 times the density that we would put fish into our boxes.
Most of these imported fish are collected from the Airport and transported to wholesalers where they are unloaded into crowded tanks awaiting delivery to the Pet shop. Generally it is only a few days before these fish are then re-boxed and delivered to the retailer. They then sit in a retailers tank avoiding the fast moving nets every day until a customer selects them and takes them home. This may be weeks.
In comparison.
Our fish are not moved from pillar to post but are boxed here in carbon filtered water and sent at low densities overnight, straight to you.
Guarantee
We are so confident in the quality of our fish that we are able to offer them all with a comprehensive guarantee. This guarantee covers all of the fish that we supply to you and covers them for a period of 7 days after delivery. We are not able to cover for fish that have been kept in unacceptable conditions or have been allowed to jump out. We are also not able to guarantee any of your existing stock. We always advise that all new fish purchased from anywhere are kept separately from existing stocks until you are completely happy with their health and well being.
If, although very rare, you have need to make a claim on the guarantee, please do not dispose of the fish until you have spoken to us as it may be necessary for us to examine it.