Sturgeon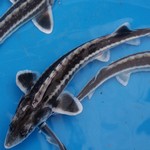 We are very excited that, thanks to CEFAS and the granting of an ILFA licence, we are now able to offer Sturgeon for sale from Bourne Valley Fish Farm.
Sturgeon are a facinating species of fish that have become very popular in garden ponds. They are generally easy to keep providing that they have the correct food, good water quality and plenty of Oxygen. Ponds should be a minimum of 4000 litres in order to keep the smallest variety of Sturgeon (Sterlet) but with some varieties reaching 1.5m long a pond of up to 20,000 litres may be required.
If you are unsure whether you can keep Sturgeon in your pond, please give us a call. We will be more than happy to answer your questions about this facinating fish.
We occasionally have larger Sturgeon available. Please take a look in the 'large fish' section of the website.