Barbel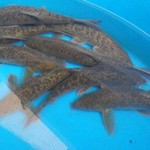 COVID-19 Status - Carpco deliveries will now recommence in the New Year with deliveries on a Wednesday, Thursday and Friday. The next available delivery will be Wednesday 6th January. Merry Christmas to all!
Barbel are a stunning fish that inhabits many Rivers in Europe. In recent years it has been bred in Stillwaters and makes an unusual and beautiful addition to large garden and koi ponds where is flourishes. It requires good oxygen levels but otherwise is a very hardy fish.
All fish in this section are suited for delivery throughout the year.