Aquabaskets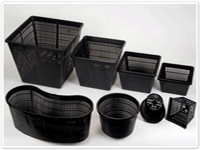 Most pond owners pot their pond plants in aquatic baskets.
The baskets are made of plastic mesh which allows pond water in while containing the plants substrate which would otherwise spread over the pond floor, look untidy and put extra stain on the ponds filtration system.
These come a range of shapes and sizes to fit most species and pond shelves.